Solar Shelter Course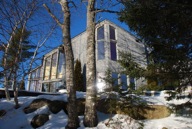 Solar Nova Scotia offers a practical, how-to course on designing and building solar shelter, including greenhouses, solaria, additions and especially solar homes. The course is intended for the general public and for those in design and construction. The main instructor is one of Canada's most experienced solar designer-builders, Don Roscoe.
The courses are offered as a whole-weekend, or one night a week for six weeks in Halifax, Chester Basin or other locations. Chartered courses can be arranged for groups. 
Course Outline
Solar Basics for electricity, active thermal solar for hot air and hot water, and passive solar.
Climate Control for comfort and health, energy and the environment.
Site Designing: working with nature, creating microclimates and integrating the shelter.
Shelter Designing: bringing you, your needs, and your site together.
Making It Happen: costing, controlling costs, contracting, doing it yourself, and case studies.
The course fee is $80 for students, $90 for individuals and $150 for couples, and includes a handout. The textbook, The Solar Shelter Manual, can be purchased at the beginning of the course if you don't already have one.
Contact Us to Register or if you have any questions.
---